MWAH, ENSQUANCHE!
Finally the wait is over and Rick and Morty's season 3 is upon us! Justin Roiland and Dan Harmon are all set to air the second episode of the third season sci-fi sitcom on July 30th at 11:30 PM EST. So the two previous seasons have been totally scintillating and exciting and we just can't wait for the 3rd instalment cause if the trailers are any indication it is gonna be EPIC! Just can't wait.
And here we'll meet the cutest of the Rick's.. "Turned myself into a pickle Morty, I am PICKLE RICKKKKK!" I for one am digging this new Rick.
To sum it up the trailer is as dope as it can get. Introducing all new places, all new characters and hopefully we'll get to see more of the TV shows from infinite dimensions. Summer is looking badass along with her cyborg avatar infact Summer's character development looks something to look forward for what with she busting monster ass and and whipping out major COD moves. Jerry…well, Jerry looks the same maybe more Jerrier if that makes sense. Personally, i really want Squanchy not to be dead as it is implied because i adore that little anthropomorphic cat person a little too much!
This joker guy with hair that is a disconcerting cross between a judge's wig and batman is someone that we are just dying to see. *shots are fired*
We hope this character portrays out to be the baddest and sassiest villain of all time Rick and Morty's Villain and has the same chilling and thrilling impact that Heath Ledger left with his Joker. With that said and done everyone is digging those heels to go along with his entire evil ensemble and that smile… That damned smile. *swoon*
AND NOW ABOUT ONE CHARACTER MISSED BY MANY IN THE TRAILER, she is someone every Morty squanches to.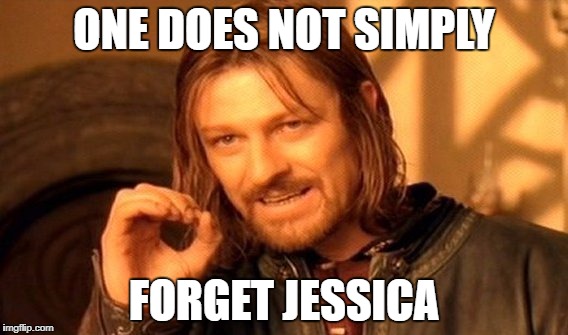 Yes her ❤ .. Morty's object of fantasy and sexual desire. She is that cliche popular chick that Morty wants to get some action with.
Last we saw her as mutated cronenberg in Rick Potion and we would love to see more of her. Cause watching Morty around her reminds us of our that one hopeless crush that we have done "everything" with in our *cough* mind *cough*.
You know all those cute and cuddly things like sitting in front of a fire all warm and toasty, with your head resting on your crush's shoulder and you both gazing with so much affection into each others eyes. NOT!!
On the end note, there is a lot of expectations on Rick. We are hoping for a little more clue on what made Rick into this alcoholic degenerate who treats human emotions as unnecessary frailties. He doesn't let his caring self out often but some instances throughout the show gave us some glimpses that made us like his quirky personality a little bit more.
Aaand i can bet you wouldn't have not felt that weird stinging in your eyes when you saw the sacrifice that Rick made for his family in the end of season 2. Damn you, tear ducts. So all in all it won't hurt to have more of such small glimpses of caring Rick.
BUCKLE UP, RIORTIANS (just made it up) … for a lot more sci-fi adventure through the space, time and dimensions.. kicking major alien ass and for all that science-y stuff that will blow your mind!